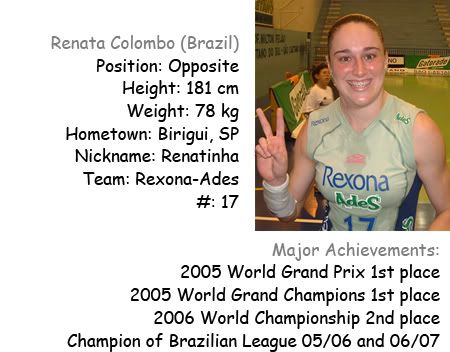 Where and why did you start to play volleyball? That's something you have ever dreamed of?
I started to play in my city, Birigui, and it was my hobby… Where there was a ball, there was me, playing… After some time, I was invited to play on a nearby city and didn't stop anymore!
Which NT or club do you like the most for the way they are playing? (you cannot name your own NT or club!)
There are a lot of good teams and national teams… Italy, Russia, Cuba… (and surely the best of all, Brazil :P)
Do you have any superstitions, before of the game?
I like to enter the court always with the right foot…
Have you ever received proposals to play abroad? Why do you keep playing in Brazil?
Yes, I've received proposals, but I think it isn't time to leave Brazil yet. But in the next season, who knows?
The year of 2005 was the best in Brazilian's title history. What was like to be part of it, to get important victories over big teams and to be on the top quickly?
It was wonderful to be in the national team, and also because I could play and help Brazil to go as far as it went… Brazil, that year, is a team that won of important national teams… With merit to the group of twelve players, they were all important.
Brazilian fans demand so much for the results. Is there any self-charging to get good results?
Besides the charge from the supporters and from the coach, there is ours. As well to us, what we do is never enough, we always have to get better, improve… nothing is always good for us too (laughs).
In our opinion, what was the best game that you have ever played?
When I was champion of the Superleague (2005/2006), the last game before getting the title… Also was the last year of Fernanda Venturini. That was a special day. Also other good moment whas when I played in national team, during 2005... These were good moments…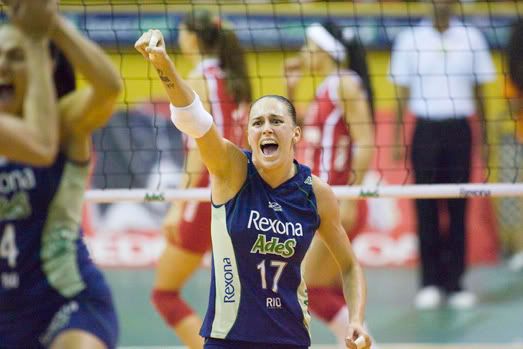 How your health problems influenciated your maturity as a player?
It was a very hard phase in my life, because I had to beat a decease in order to have a chance to get back to play. Surely I matured very quickly. And today I only give attention to important things, I don't give a damn to small things. I always have to thank God for have beated the decease and that I won't ever forget, also my faith helped me a lot! It taught me to never give up…
Do you face some problems for being tall?
Well, I don't have any problem, and it would be good if I was taller (laughs).
What are your next goals?
I want to practice a lot to go to the Olympic Games, always try to improve my volleyball… and to be happy!
Pictures by Rexona/Ades and LothiePG.