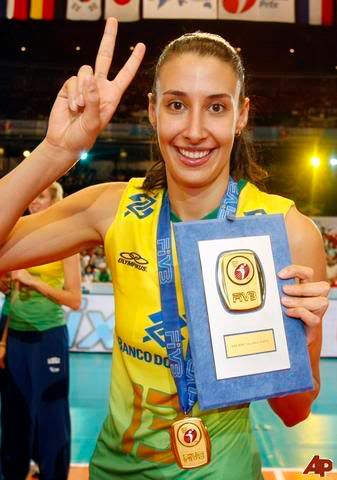 1 - When, where and why did you start to play volleyball? That's something you have ever dreamed of?

I started to play at school, incentived by my family, because I was tall. I really liked it, and started to stand out [among the other girls], then I started playing in Mackenzie. After that, I was selected to play for my state (Minas Gerais) team, and later I got to play in the Brazilian youth team. Becoming a professional player was something that came naturally...
2 - You went to play in Italy at a very young age. Why? Do you consider that experience to be essential in your carreer as a player?
I went [to Italy] because I thought that the proposal was very good, both financially and for my professional growth, after all I went to play in the best volleyball league of the world!
3 - You returned to Brazil for the season 2008/2009. What was the reason?
I came back because I had a good finantial proposal and because I wanted to be close to my family. The best players of the world are [playing] in Italy, and here in Brazil it [the league] started to grow strong in the last two years.
4 - In the previous league (2008/2009) it was expected that São Caetano could reach the league finals, but didn't make through the semis. Do you believe that this year the team has potential to reach the championship's finals?
[Yes], I believe. I think that we aren't in the best shape yet as a group, but we will improve.
5 - Tournaments like the World Cup and the World Championship are played away from home and you play many games in a row. How do you keep fit to endure the marathon of matches?
We prepare ourselves during the whole year to play championships like that. And our coaching staff knows what to do so we can be in good physical shape during the championships.
6 - The Brazilian national team was, in general, mocked by many people for losing decisive matches. Did you believe that Brazil could become Olympic champion?
I was sure [we would win].
7 - What is, in your opinion, the differential of Brazilian national team compared to others?
Our training, with ball and the physical [part].
8 –What are your next goals?
This year my goals are winning the Brazilian league (Superliga) and the World Championship.
Picture: thanks to AP