Starting on 24.08.2021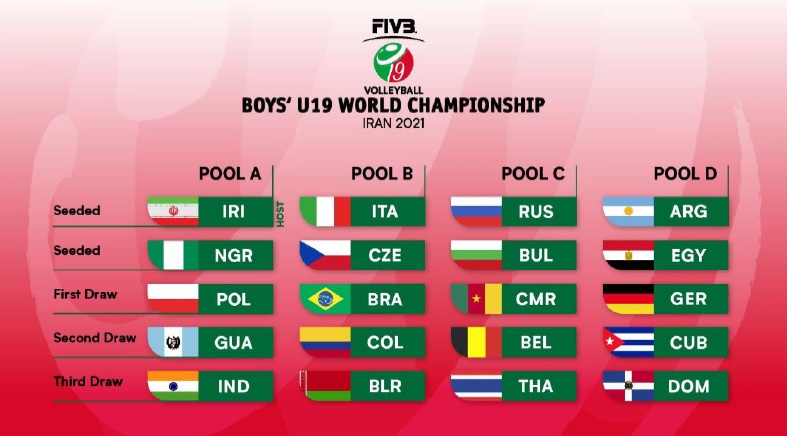 There's no website yet with official rosters, a week prior to the event (...), so I have no idea what squads were summoned by the coaches. And due to COVID we haven't had some Youth competitions, and the others were postponed, and the others were played with some teams lacking, so it will be a lottery, every coach from what I've read is repeating the same. But my guesses:
- Iran will be dangerous and maybe even a team to beat, they played four friendlies against Italy in July and won 3 of them easily;
- Italy is ECH champion in this age category, but there was no Russia at the event due to COVID, and they played at home, although right now they have stronger roster than back then, so should compete for a medal;
- Poland has solid group, but lacking any spectacular talent, it's the lowest team height-wise of Poland I've ever seen, I'd take bronze medal here and run;
- Belgium should be a dark horse here, their best player Ferre Reggeers already played as 17yo in friendlies against Poland in June (against senior NT, with Leon and Kurek), and was one of the best players of ECH U20 last year, he's a big talent, but I don't know if he will be even called up here;
- Bulgaria could be dangerous, but they organize WCH U21 with Italy, and some players (Tatarov and Nikolov) played with that team in friendlies, so I don't know if they play full-strength here, two weeks before that tournament;
- Belarus and Germany were average at last year's ECH U18, Belarus was beaten easily by Poland in friendlies recently, Russia is a huge question mark, because they didn't play at ECH U18 at all due to COVID (and they were bad at ECH U17);
- I have no idea about Argentina, I know only one player from this age category (OH Rojas), because there was no South American U18 Championship due to COVID as well;
- and - again - I have no clue about these exotic countries if they can pull off the upset, maybe Nigeria, they won continental qualies, but it's a reach.
If all teams played with full squads, from what I know about these players, these are guys that I am familiar with (from Europe):
- Luca Porro (Italy, OH, MVP of ECH U18, although he didn't play in friendlies before a tournament, so I wonder if he's healthy, he's really big talent)
- Mattia Boninfante (Italy, S, Brizard-like setter, with huge serve and nice setting skills for this age category; yes, he's a son of...)
- Arthur Bento (Brazil, OH, tall, athletic, hyped a lot in Brazil)
- Kamil Szymendera (Poland, OH, gifted technically)
- Ferre Reggeers (Belgium, OPP/OH, tall, athletic, two years ahead of his age category)
- David Kollator (Czech Republic, OPP, tall, left-handed, was a leader of Czechs team at ECH U17/U18)
- Alexander Nikolov (Bulgaria, OH, son of Vlado Nikolov, athletic, and yet technically gifted)
- Georgi Tatarov (Bulgaria, OPP, good jump and athleticism)
But it's all based on previous junior tournaments in Europe, in these youth categories many things can change in a year, if I get any feedback, maybe I'll make an update when rosters of all teams will be known. If not, sorry to bother.
About formula: four teams from each group will advance and then play knockout phase from 1/16 (B1vA4, and so on) based on seeding. Brazil-Italy will be played on the first day, so it's getting spicy from the start.
Last but not least:
Do you remember when after tragic death of Vigor Bovolenta, special, annual (???) event of Bovo Day was started, and in a game between Italy NT and former Italian players, at some point 8 or 9yo son of Vigor, Alessandro took the court and served an ace?
He's now 18yo, over 200cm tall easily, and he'll be probably a starter of Italy as an opposite, Ravenna native, playing in this city youth sector. I don't think as far as I saw him at Italian NT U17 Champs that he's any big talent if I'm being honest, Mattia Orioli is a real talent from his team, who was already promoted as 17yo to Superliga level in Ravenna, but it's still a really cool story if he's able to make it on some decent level.